Order the latest Bitcoin mining machine today
To fill a widening void in the crypto hardware supply chain, we recently acquired a team of experienced ASIC engineers and system designers from South Korea with a 5 nanometer ("nm") ASIC chip design for bitcoin mining machines. The team comes with access to Samsung Foundry, one of only two wafer foundries in the world capable of producing 5nm chips. Based on the 5nm ASIC chip design, We are planning to produce industrial grade air-cooled and immersion-cooled bitcoin mining systems that larger mining companies have been asking for.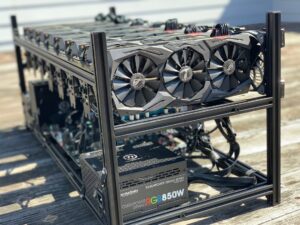 The crypto hardware market, made up primarily of ASIC mining machines for Bitcoin and GPU machines for processing Ethereum tokens, is projected to grow from a $5 billion per year market to an estimated $8 billion over the next few years. By our calculations, we believe, for bitcoin miners to stay competitive they will have to migrate to 5nm ASIC machines over the next 2 to 3 years. This migration could equal an estimated $11.9 billion in replacement and upgrade sales.
The driver is twofold – increasing hashrate and limited supply of mining machines. Increasing Hashrate - more bitcoin at higher prices equals more miners competing for blocks,
which increases the mining difficulty rate (hashrate), which equals more processing power in the
network. Currently bitcoin is running at 180 exahash per second - industry experts are projecting this difficulty rate could increase to 360 exahash over the next couple of years. At this rate only the fastest most efficient miners will compete to win blocks and make money. Below we estimate the hardware market value as miners migrate to 5nm ASIC machines to stay competitive:
For more information contact
Dave McElroy
david@firstfusioncapitalfunding.com
817-966-9495